Welcome!

The Institute for the Study of Peak States (ISPS) is a world-wide research, teaching, and clinical treatment volunteer organization focused on the study of the psychology and biology of consciousness. Our groundbreaking discoveries in prenatal development and in the tremendously exciting new field of subcellular psychobiology have linked epigenetics to psycho-immunology and trauma. This has stunning, practical applications, allowing creation of entirely new techniques for the treatment of mental and physical diseases.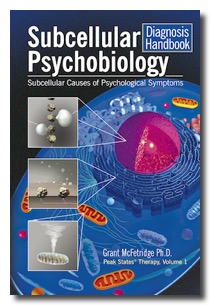 Research
Our newest breakthroughs are in
psycho-immunology
(PI). Our models allow us to develop simple, fast and effective psychological techniques that eliminate targeted pathogens. This approach is a whole new frontier of science; it will be decades before the huge range of applications are explored and utilized. Our current PI
research projects
include severe autism, Alzheimer's, Lyme disease, type 1 diabetes, OCD, and several other chronic diseases. Our free annual
symposium
covers our latest research and applications.
Our PI models are based on the discovery of
subcellular psychobiology
. This fundamental breakthrough ties psychological and physical symptoms to
intracellular
pathology. This has enabled us to discover the underlying causes and derive treatments for a number of devastating mental (and physical)
diseases
, many of which have been considered incurable (for example,
Asperger's syndrome
,
schizophrenic voices
, and others). It also gives us a simple physical, biological framework for understanding unusual transpersonal phenomena and spiritual experiences.
Our original research efforts were to try to improve psychological quality of life. As part of this investigation, we developed a very practical PTSD/trauma healing technique using regression which we called
Whole-Hearted Healing
. This led to the development of the prenatal '
developmental events
model' that explains how and why continuous '
peak states
' of consciousness exist - many of which have a profound impact on people's lives. Our current research is focused on two states that both confer psychological invulnerability and exceptional quality of life.
School/Trainings
To turn research into practice, we now have a school teaching our work to professionals internationally. Client safety is of utmost importance to us, so the Institute's professional training program also certifies and licenses
practitioners
.
Our
professional classes
cover three different areas:
Psychological healing techniques that widen the range of problems that a therapist can treat. They can be used on their own or as a complement to most other healing modalities, and can be easily added to a therapist's healing repertoire. The best known is Whole-Hearted Healing™, a regression technique that is suitable for everyone. It easily accesses and heals prenatal events. (The technique is given on this website as a public service.)


Theory and methods for acquiring a variety of different, permanent peak states of consciousness. In particular, our technique to turn peak experiences into continuous peak states is especially appreciated by clients.

Specializations - the teaching and licensing of therapists in the treatment of specific diseases. Our techniques are fast, effective, and permanent.
Clinics/Therapists
Currently the Institute clinics focus on just a few of the huge number of potential diseases our approach could address. Our current
clinical treatments
include traumatic brain injury (TBI), ADHD, Asperger's, and several other major diseases. This list of treatable diseases is constantly increasing - after a new disease treatment is derived and tested in by the research group, they are then made available via our international clinics (in
Australia
,
Denmark
,
Germany
, and
Poland
).
Many of the treatments we've developed are now used by licensed private
therapists
in their own offices. These range from PTSD, addiction treatment, schizophrenic voices, to many other
therapy-related issues
and disorders.
The Institute is also pioneering a new way to deliver health care - a '
pay for results only
' approach to both psychological and physical conditions.
About the Institute
The core purpose of this Institute is to find ways to improve the quality of life for all of mankind. We've written this website to help professionals and laypeople become informed on the specifics of our discoveries and keep updated as our work progresses - and to attract people who
share our vision
. We have a free newsletter that you may wish to subscribe to by clicking the link at the bottom of this page. If you have any questions, comments, or suggestions, please get in touch. Enjoy!
~Shayne McKenzie, CEO
~Grant McFetridge PhD, founder
---
Our research journey to date (1999-2021) - and beyond
Recent News (course schedule)

Added May 22, 2023:
Our 4th online/onsite symposium will be held in Crete, Greece this summer on July 22-23, with workshops extending for 2 more days onsite. This symposium is free both online and onsite (but you pay for your own food and accommodations onsite).

Added Mar 31, 2023:

The 4th International Psycho-immunology & Psychobiology Research Symposium will be held in Europe summer 2023. Dates and location to be determined soon.

Added Nov 13, 2021: Join us for our free 3rd International Psycho-immunology & Psychobiology Research Symposium online on April 2-3, 2022. To register on Zoom click here. To inquire about becoming a speaker, contact Grant(at)PeakStates.com.

Added Aug 2, 2021: We are now releasing our covid treatment to our clinics. Note that this is not a substitute for vaccination, and does not work on the hypoxia symptom. Get vaccinated as soon as you can!

Added July 12, 2021:
The Polish translation of Peak States of Consciousness Vol 2 is now available in Poland via the publisher Kraina Zdrowia.



Added Jan 11, 2021: Join us for our free 2nd International Psycho-immunology & Psychobiology Research Symposium online on April 3-4, 2021. To inquire about becoming a speaker or attending the Zoom sessions, contact Grant(at)PeakStates.com.

Added Oct 1, 2020: We are looking for seriously ill COVID-19 patients to test a psycho-immunology treatment for the disease. This is a fast, non-drug approach. For more information, see our COVID webpage.

Added Jan 7, 2020:
Join us for our 1st International Psycho-immunology & Psychobiology Research Symposium on Hornby Island, BC Canada on April 4-6, 2020. Free, but attendees will be expected to make a presentation of their work. Speakers so far: Dr. Kirsten Lykkegaard DVM; Dr. Grant McFetridge; May Pellicer MD. Shayne McKenzie; and more to come. To inquire, contact Grant(at)PeakStates.com. For info on Hornby Island, see hornbyisland.com. We have housing for attendees. Some presentations will be available online to the public via Zoom.

Added Oct 23, 2019:
Our staff gave a talk about our treatment for schizophrenic voices at the 2019 International Society for Psychological Approaches for Psychosis conference in Rotterdam on August 26-30. He also gave a poster presentation on the same topic at the 7th European Conference on Schizophrenia Research in Munich on Sept 26-28.

Added May 21, 2019:
A conference and get-together in Switzerland Aug 22-25 for students and therapists trained by the Institute, as well as for interested laypeople (for some of the days). This is a gathering of colleagues in the psychobiology field, to practice recently developed techniques and get other updates, and to test new, experimental psycho-immunology processes. Contact us more information.

Added Mar 5, 2019:
Dr. Mary Pellicer and Dr. Kirsten Lykkegaard are presenting our treatment for traumatic brain injury at the 13th World Conference in Brain Injury in Toronto, Canada March 13-16 2019. Title: "Fast Resolution to Chronic TBI Symptoms by Improving Brain Resilience".

Added Dec 20, 2018:
A conference for therapists trained in the Institute is being held in Wroclaw, Poland on January 4-6. Friday is open to any therapist trained by the Institute, and Sat and Sunday are for therapists certified by the Institute. This is also a chance to spend time in the autism treatment school at the University there. Contact Agata Jankiewicz in Poland via her webpage.

Added Aug 12, 2018:
Dr. McFetridge was interviewed by Aleksander Berdowicz in Poland this summer. The resulting hour-long video is titled "Peak states, psycho-immunology, and fast trauma clearing".

Added May 30, 2018:
A certified therapist gathering to get all the latest will be held in Denmark June 8-10. Contact Nicolai Hassings for details. A get together of students and therapists will be held in Germany June 15-16. Contact Ingka Malten Enyan for more details.

Added May 30, 2018:
The Polish translation of Subcellular Psychobiology Diagnosis Handbook is now available on Amazon. Links are on our bookstore webpage.



Added May 26, 2018:
Free Russian translation of Peak States of Consciousness, Volumes 1 and 2, and The Basic Whole-Hearted Healing Manual are now online for download from our bookstore.



Added May 6, 2018:
Dr. McFetridge will present at a conference on autism in Wroclaw, Poland on June 22-24, 2018. The Institute's discoveries in the cause and treatment of autism will be described. The conference is sponsored by Unlock, a school for autistic children at the University of Wroclaw.

Added Dec 16, 2017: Our new book, Silence the Voices: Discovering the Biology of Mind Chatter by Dr. Grant McFetridge is now on sale on Amazon in the US, Europe, and Australia. You can 'look inside the book' on the Amazon websites.



Added March 26, 2017: From our archives, we've put online a 1996 TV interview on "Alternatives to Conventional Psychological Therapy" with Sheelo Bohm and Grant McFetridge. Much of the discussion is still relevant today.

Added Mar 8, 2017:
Free Russian translation of the Subcellular Psychobiology Diagnosis Handbook and The Whole-Hearted Healing Workbook are online now for downloading as a PDF.



Added Mar 6, 2017: From Apr 25 - May 16, 2017, our CEO Shayne McKenzie (Australia) will be in Europe meeting certified therapists and people interested in our work. You can arrange meetings with him at
, phone +61 (0) 432 887520 in Australia, or contact a staff person in your country.

Added Oct 15, 2016: Added a webpage about our work on a treatment for Lyme disease, including the psycho-immunology principle used for creating immunity.


For older news, see our RSS archives.

---

...or visit our Forum


PeakStates news (RSS)